A brief respite
Being totally bogged down by work these days (a full-time job, a freelance job and a crafty business!), I am totally needing a break. Just a minute to not have to worry about deadlines, for heaven's sake. Sometimes reading through my favorite blogs is a big stress reliever and here are a few of my top blogs that I never miss:
wee wonderfuls
hopskipjump
Posie Gets Cozy
- if I've got A LOT of extra time ;)
Tea-Time
- when I want to practice my French! The adorable bracelets below are from:
http://3pioux.over-blog.com/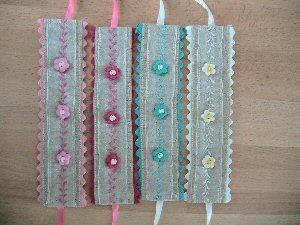 Ah, a little relaxation and back to work!